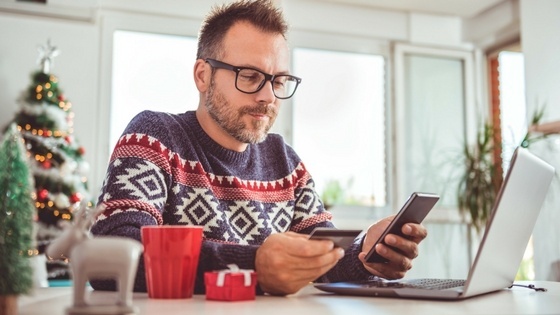 Holiday shopping is easy now that most stores have a website. Instead of walking through a crowded mall, you can simply click a button wherever you are and your shopping is done. But remember to take safety precautions like you would at the mall when you shop online. Here are some ways you can keep your purchases and personal information safe online:
Only use safe, online options.
Credit cards are the safest way to shop online because of the protection they provide. Credit cards allow you to return an item that isn't what you ordered. And, if your card number is used fraudulently, you have zero liability in most instances.
Be leery of Wi-Fi hotspots
Although it's convenient to shop while hanging out at your favorite coffee shop, we don't recommend it. Maybe that's the time you can compare prices and make your list. Always use a secure network connection when shopping. Don't provide any personal financial information using a Wi-Fi hotspot – it's not protected.
Make sure your devices are protected.
All the devices (computer, tablet, TV, or phone) you use for shopping should have updated virus and malware software on them. If you're using apps, download them only from a trusted source, and avoid clicking on any email that doesn't appear to be from a trusted source. For example, if you receive a regular email from a store offering a special during the holidays, it's probably safe to click and receive the offer. However, if this is a new email, from a store you don't recognize, delete it. Or, if an email looks different from what you typically see, delete it.
Keep your information locked.
When you're not using your computer, tablet or phone, keep it locked – with a difficult or unique password to open.
Only shop on secure sites.
Before you shop on any site – make sure it's legitimate. You'll see a closed padlock on your web browser's address bar, or you'll see "https" or "shttp" in the URL address. If you're using a newer site, check out any online reviews for delivery and quality before you shop there.
How DuGood Can Help
The holiday season is a time to spend with friends and family not stressing out over identity theft! If you shop online frequently, be sure to check our ID Theft Protection plans. For only a few bucks a month, we'll cover all your financial account – not just those at DuGood!
Also, if you enjoyed this article, be sure to check out our Security Center. It's filled will helpful tips and articles to keep you safe from scammers.