Need help? Give us a call at (409) 899-3430.
MANAGE YOUR DUGOOD ACCOUNTS AND LOANS
USING YOUR VOICE
Check your balance
Easily ask Alexa for the balance of your
savings, checking or loan accounts.
Track your recent transactions
Know exactly what you're spending
by asking Alexa for your account history.
SETTING UP DUGOOD ON ALEXA
1. Enable alexa
Open the Alexa app
Tap or select Skills & Games from the menu
Search for DuGood Federal Credit Union
Select "Enable"
2. Link Your Accounts
The skill will take you step by step through the setup to link your accounts.
3. Talk to Alexa
Once your accounts are linked, you can begin asking Alexa about your DuGood balances and transactions.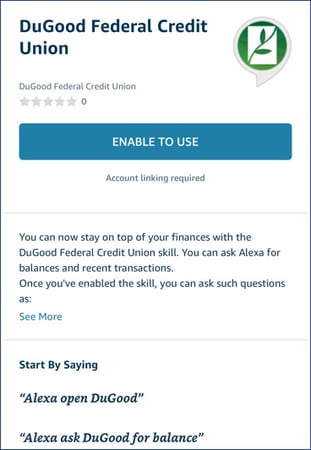 To begin, say "Alexa, open DuGood"
To hear balances, say "what is my account balance" in savings, checking or loan
To hear a list of transactions, say "what are my recent transactions" in savings, checking or loan
To replay the last statement, say "repeat"
To exit, say "Goodbye"
To disable, say "unlink"