More Control
Unlike other auto payments options, you get the flexibility of determining how much you want to pay and when.
Get eBills
Tired of snail mail? Get bills delivered straight to your computer or mobile device.
Stay organized
Avoid the hassle of remembering multiple logins. Pay all your bills in one convenient location.
Schedule Payments
Pay a bill just once or schedule automatic payments each month.
Greater Security
Avoid sharing your information with multiple billers. You'll be protected by the same standards that secure your online account.
Make Changes
Add, delete, or edit your payments. You can modify them any time before your payment clears.
Go Green
By going paperless, you could be part of the movement to save millions of trees each year.
View history
We'll keep track of your past payments, so you can review them if you need to.
Improve your credit
Avoid late payments by setting up email reminders that alert you when your bills are due.
Download our FREE Bill Payment Quick Start Guide
Need help getting started? These step-by-step instructions will have you paying your bills in no time.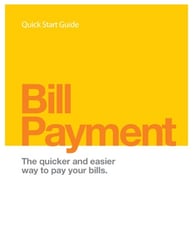 A checking account and Online Banking access are required in order to use Bill Pay services.