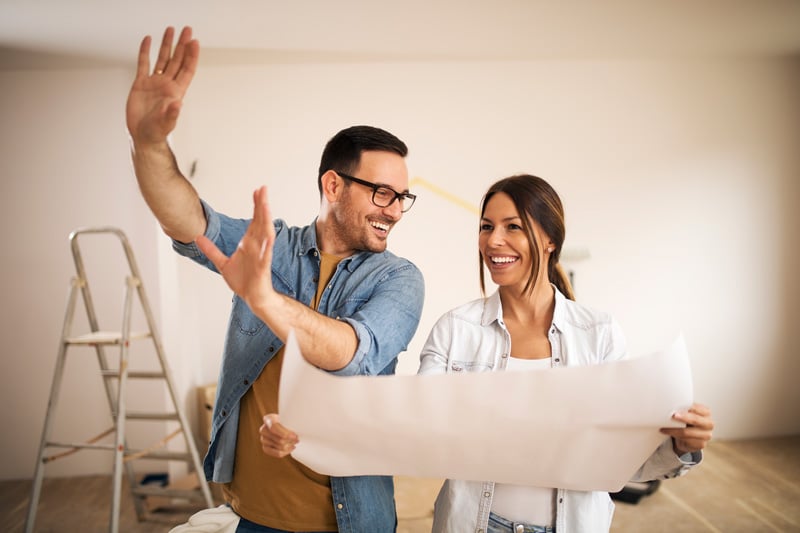 It's no secret that owning a home carries many financial benefits. The equity you accumulate over time is one of those benefits that can be tapped into for various reasons. It can be a resource to fund home improvements, major life events, or it can even be used to consolidate personal debt to pay it off faster. Let's first review equity and how it's accumulated.
EQUITY 101
So, what is equity? Equity is the difference between what you owe and what your home is worth. You can accumulate more equity in your home by paying your mortgage off faster or if your home's value increases over time. A home equity loan allows you to borrow against this equity for a low-interest loan.
However; Texas laws limit how much equity you can borrow. There is a maximum Loan-to-Value requirement of 80%. This means in the state of Texas, the sum of a home equity loan, plus the balance of any other mortgage loan against your home, must be equal to or less than 80% of the home's appraised value.
For instance, if your home is worth $150,000 and you owe $100,000, you would take $150,000 x .80 = $120,000. Then you would subtract the amount you owe, $100,000, and you could get $20,000 cash with a Texas Home Equity Loan
CONSOLIDATE YOUR DEBT
If you've accumulated debt from credit cards or other high-interest loans, a home equity loan can help you pay these balances off quicker and at lower rates. Believe it or not, approximately 47% of adults currently have substantial credit card debt. If you consider that credit card rates are now averaging 16.43%, a home equity loan can save you thousands of dollars in interest as you work to pay it off, with rates as low as 3% to 3.75% APR*. To learn more about how to consolidate your debt, try our Personal Debt Consolidation Calculator to see if this type of loan would be best for your personal debt situation.
REMODEL YOUR HOME
One thing is certain in life - unexpected expenses can arise at any moment. If you require repairs or even upgrades to accommodate a growing family, a home equity loan is certainly a viable option to consider. As previously mentioned, you'll receive a much lower interest rate and more flexible terms by utilizing your home's equity. Depending on the improvements that need to be made, you can choose a loan term as short as 5-years or as long as 30-years.
FUND IMPORTANT LIFE EVENTS
Various life events can sneak up on you if you haven't planned accordingly. For instance, the average cost of a wedding ran around $33,900 in 2020, which is nothing to sneeze at. Other life events might include the rising cost of college tuition, extra money for retirement, or that once in a lifetime trip you've always wanted to take. To fund those important (and often expensive) life moments, consider reaching out to our Mortgage Team to discuss your options on taking out a home equity loan.
WHY DUGOOD?
At DuGood, our desire is to help our members achieve their hopes and dreams. Our mortgage experts will be here to walk you through the process, step by step. Plus, you'll enjoy:
The DuGood Difference - Home Equity Loans
No Closing costs*

No Payments for Up to 60 Days*

Up to $400 Cash Back*

Terms up to 30 years

Financing up to 80% Loan-to-Value
If you're ready to start the process of applying for a home equity loan, you can do so in just 10 minutes or less with our EZ Mortgage App. Please feel free to reach out to one of our loan professionals with any questions you may have at (409) 726-2126.
Love all things good from DuGood Federal Credit Union? Don't forget to follow us for the latest news, trends, and events on Facebook, Instagram, Twitter, Linked In, Snapchat, and YouTube.
---

*Not all applicants will qualify for this offer. APR=Annual Percentage Rate. Rates quoted are based on A+ credit rating and for first lien home equity loans. Actual rates will vary depending on term and individual credit worthiness. No closing costs on loan amounts below title insurance and regulatory appraisal thresholds unless an appraisal is requested. Offer valid for a limited time on qualifying Home Equity Loans of $20,000 or more new money. Cash back is based on amount financed. First payment dates vary, are subject to change and are based on individual credit worthiness. Maximum Loan-to-Value is 80%. Payment Example: A Home Equity loan of $100,000 for 30 years at 3.75% (3.75% APR) will have a monthly payment of $463.24. Taxes and insurance are not included in this example, your actual payment may be higher. Other restrictions apply. Contact credit union for complete details.