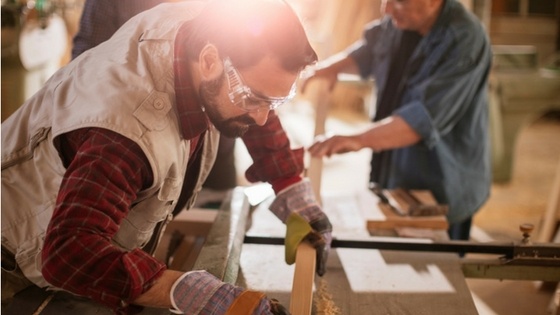 It has been about two months since Hurricane Harvey visited Southeast Texas. And much like the storm itself, progress is slow and steady.
Most folks have completed the demo stage – the piles of sheetrock and flood damaged furniture that line roadsides bear witness to that! So, what's next?
It's time to rebuild! Here at DuGood, we want you to FEEL GOOD about moving forward. Too often, scammers, known as "storm chasers," target homeowners who have been affected by hurricanes. And after the exhausting nights of pulling out wet carpet and drywall, it's easy to see how it happens.
That's why we want to share these fourteen tips to help you find a contractor that's legit.
Go local if possible.


Get recommendations. Start with family, friends, and neighbors. Leverage your social media, especially Facebook, to ask for recommendations.

Houston Chronicle writer L.M. Sixel advises, "Get a sense of how the work was done, whether any problems were fixed and how well the contractor communicated. If people recommend the same names over and over, you've got great leads."
Check with the Better Business Bureau. Find out how long the contractor has been in business and review his/her history of complaints. Halloween may be approaching, but if you find a bunch of horror stories – RUN!
Check the address. If the contractor you're looking at just has a post office box, things could be sketchy. Most professional contractors have physical locations.

"Don't hire people who just work out of their trucks and have no known home base. And be wary of contractors who say they can't provide references," Sixel says.
Ask for proof of insurance. Does the contractor you're considering have general liability insurance and worker's compensation coverage? It's also important to determine if he/she has a surety bond because if the contractor can't finish the job, the bond will cover completion.
Become an expert on permits. Your contractor should be responsible for applying for and getting the correct permits. But, it never hurts to know what's required before starting your building project.

For more on what to do if your contractor doesn't pull permits, check out this article from Angie's List. (Thanks for the recommendation KHOU!)


Go shopping! You wouldn't buy an appliance without comparing prices would you? The same concept applies! Get several quotes and make sure you're not getting charged too much.
Chat with your insurance adjuster. For a speedier process, have a talk with your adjuster and ask which contractors have experience working with insurance companies. This isn't a sprint, of course. But, you might be able to get claims paid and repairs done a little faster.
Communicate well. If a contractor is difficult to talk to, that's a definite red flag. Ask to meet in person and request a sample of his/her work, so you can check the quality.
Get EVERYTHING in writing. We all need accountability! The folks at KHOU and Angie's List recommend "getting details on everything from detailed time frames, the total cost, payment arrangements to your contractor's license number, project description and more."
Ask for a lien waiver. A lien waiver is a legal document stating that all suppliers and subcontractors have been paid for their work. Without it, you could be popped with a bill by anyone who worked on the project (if your contractor doesn't pay up in a timely manner).
Never pay in full. Ask the contractor if you can stagger your payments until the job is completed. It's also important to make sure you have a paper trail. Use a card or write a check. Be sure it's made payable to a company, NOT an individual.
Get a receipt. Do a walkthrough and make sure the project is complete. (See number nine about getting everything in writing!) Most of us probably don't save receipts any more, but this isn't your everyday purchase. Ask for a receipt that says "Paid in Full," so there's no room for questions.
Keep documents just in case. Rebuilding your home is a huge process. You never know what questions may come up in the future! Store a copy of your contract in a safe place in case you need to reference it further down the road.
How DuGood Can Help
Home repairs can add up quickly, and we understand that in some cases, insurance just won't cover everything. If you have questions about additional financing, give our Home Loan Team a shout. They'll be happy to point you in the right direction.