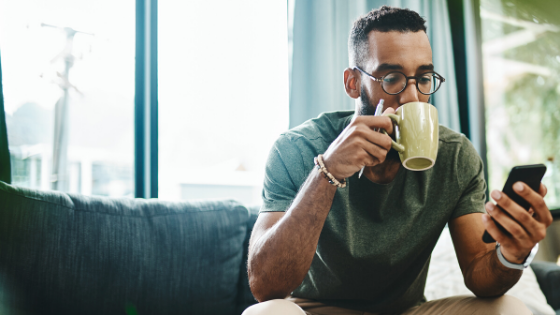 Pandemic or peace, the news is filled with stories, warning that cyber attacks are on the rise. So what are the best ways to protect your information? Let DuGood help!
We have all the security features you need. Here's how we're looking out for members like you!
Debit Cards with Fraud Detection
Not only do our debit cards come packed with perks like fewer fees and rewards, but they are also protected by our Fraud Detection program. DuGood keeps a close eye on our members' debit card transactions, so we can spot potential fraud and stop scammers.
If we suspect fraud, we'll text or call you to verify your most recent transactions. All you have to do is respond with a simple "yes" or "no."
If you haven't updated your contact information with us in a while, we encourage you to do so. Just call your local branch, and we can take care of everything right over the phone.
CardValet with Real-Time Transaction Alerts
If you want to know exactly what's going on with your debit card, this FREE app is where it's at! CardValet gives you complete control of your debit and credit cards. Once you download it and go through the simple registration process, you'll be able to:
Turn your cards on or off
Receive real-time alerts every time your card is used
Restrict where your card can be used
Establish spending limits
And more!
CardValet is separate from the DuGood app and is available for Apple and Android.
Advantage Checking
If you're looking for a checking account that works for you – and comes loaded with benefits, your search is over! The security features alone could save you hundreds if you're using other services.
Identity Theft Reimbursement
Comprehensive Identity Theft Resolution Services
Credit Alerts & Monitoring
Identity Monitoring of over 1,000 databases
We haven't even touched the other goodness it comes with! If you'd like to open one or upgrade, you can do so online or just give us call!
In Conclusion
As you can see from the services mentioned above, our members' security is top priority! We believe that finances should be simple and safe, so you can concentrate on the things that matter. If you have questions about our debit cards, CardValet, or Advantage Checking – we're happy to help. Just call your local branch or head over to our Security Features page. It's time to put your safety first!