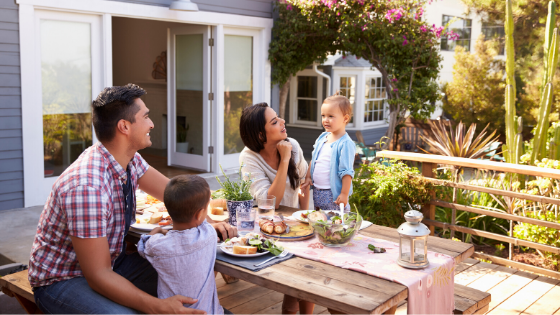 Perhaps you have a home you're considering refinancing. Great! First, what is refinancing? Refinancing, as it applies to a mortgage, is paying off a current loan to replace it with a new one. But when is the best time to do so? Here's a list of three reasons you may want to consider refinancing.
Better Interest Rate
The most beneficial reason to refinance your home is to get a lower interest rate. This helps you in two ways. First, if you're paying a lower interest rate on the same size loan, your payments will be lower, leaving more money in your pocket each month. Second, over time you'll spend a lot less money on interest too. In other words, there's a short and a long-term benefit.
Tip: At DuGood, Home Equity rates have fallen! Plus, we'll pay all the closing costs*, even if your loan requires an appraisal.
Shorter Loan Term
Why would you ever want your mortgage payments to go up? Well, what if an increased loan payment meant you could pay off your home in half the time. If you can afford the higher payment of a 15-year loan versus a 30-year loan, you'll save a lot of interest and, of course, you'll own your home outright in half the time.
Consolidating Debt
If your consumer debt is getting harder and harder to manage, and you have equity in your home, a refinance in which you pull some equity out of your home – i.e., you end up with some of the loan proceeds in your pocket – may be your answer. When you balance the double-digit interest rates on your credit cards against the single-digit rate on your mortgage, it's clear there's money to be saved. The challenge, obviously, is resisting the temptation to run that consumer debt back up after the refinance.
How DuGood Can Help
If this blog resonates with you, it may be time to refinance your mortgage! Choosing a home equity loan is a great option:
Choose terms from 5 – 30 years
Pay off your home faster
Get a lower monthly payment
Get cash out for debt consolidation, home improvements, or anything else you need
Be sure to check out our online resources or give our Mortgage Team a call at (409) 726-2126.
*No closing costs on loans under $250,000. Offer valid for a limited time on qualifying Home Equity loans of $20,000 or more new money. DuGood will cover the appraisal cost if an appraisal is needed. Maximum Loan-to-Value is 80%. Normal credit criteria will apply. Other restrictions may apply. Contact credit union for full details.