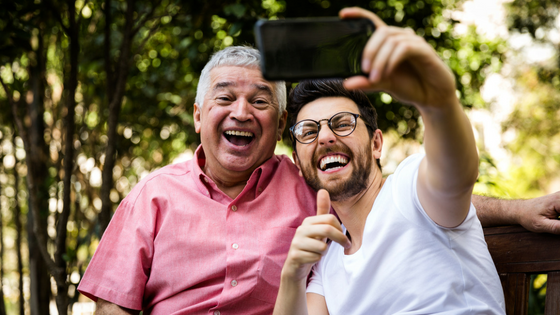 Father's Day is June 17. Yes… as in Sunday. Two days away! We just felt procrastinators panic everywhere. Yes, the force is strong with our bloggers. But, we digress.
If you find yourself lacking in the gift and the money department, don't worry. Here are a few ideas to help you surprise your pop without killing your cash flow.
1. Grill and Chill
If your dad is from Southeast Texas, odds are he likes meat! And, we're pretty sure he likes spending time with you too. A little back yard BBQ'ing will give him the perfect opportunity to enjoy both. Here are a few items you might want to pick up:
Hot dogs
Hamburgers
Fruits and Veggies
Paper plates and utensils
Be sure to check out grocery store ads, so you can get those discounts. Word on the street says H-E-B is having some pretty amazing sales on T-bone steaks, corn on the cob, and condiments.
2. Decorate a Coffee Mug
Have a coffee drinking dad? Get creative and head to the craft store. You can typically find blank coffee mugs for around $5. Decorate the mug with some Sharpies or paint. Then, pop it in the oven for 30 minutes at 350 degrees to preserve the design. Give it a little hand wash – and voila! Your padre will have something unique and thoughtful to enjoy when he drinks his morning java.
3. Take Over The Chores
Dads work hard! Give yours some time to relax. Create coupons that he can redeem for chores like:
Cleaning the kitchen
Taking out the trash
Mowing the lawn
Cleaning the garage
This gift might cost you a little time. But, if your funds are extra low, it's FREE! Your wallet and your pop will thank you.
4. Put Together A Photo Album
Have you made some special memories with your dad? A picture says a thousand words. Put together a photo album or frame one of your favorites. Some gifts keep on giving, and this is one your padre can treasure for many years to come.
5. Write A Note From The Heart
When is the last time you told your dad just how much you appreciate him? It's easy to keep these thoughts and feelings on the inside. And oftentimes, we wait until it's too late to express them. Give your pop a handwritten note! Tell him what you're thankful for, what you admire about him, and what he's good at. Even though he might have a tough exterior, this gift is sure to do something warm and fuzzy for his heart.
How DuGood Can Help
We may not be able to create the perfect Father's Day gift for you, but we can go along for the ride! Whether your Father's Day budget is big or small, be sure to bring your DuGood debit card with you. Our cards are some of the safest in Southeast Texas – and you can earn rewards while you shop! Happy Father's Day!
Source:
Save Money Last Minute on Father's Day Gifts by Erin Ellis -
https://www.pfcu.com/financial-education/moneyline-blog/post/mb/2018/06/11/save-money-last-minute-on-father-s-day-gifts