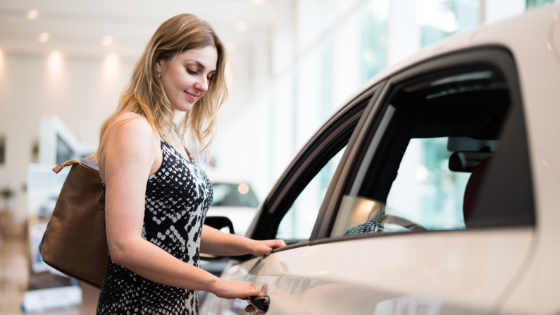 Shopping for a new car has never been easier. There's never been greater access to information on everything from make, model, fuel efficiency, past accidents, and more to help you make the right decision.
Yet, according to Edmunds.com, consumers continue to make the same buying mistakes. Are you guilty of these?
1. Only Shopping At One Dealership
Experts say three dealerships is the minimum to compare deals. Be fully transparent in letting each dealership know who else you've spoken with and what they've offered.
2. Not Shopping Online
Online shopping isn't just for Amazon! What if we told you that you could do all of this from your computer or mobile device?
Research and compare vehicles
View NADA values, Carfax and KBB reviews
Shop local dealer inventory
Calculate your monthly payment
You can! Our EZ Auto Buying tool will save you tons of time and gas. Give it a test drive!
3. Not Making The Most Of The Test Drive
Have a checklist in mind as you drive and see if it's hitting all your needs; for example, is it easy to get in and out of for every family member? Is the tech intuitive and user friendly? Make another appointment to test drive the car again after the initial test drive, so you can recheck all those little things you noticed the first time around, and maybe find some things you didn't notice. That way, you can decide if these undesirable qualities are something you can live with, or something that will drive you nuts long term.
Download our Auto Buying Guide >>
4. Not Calling Your Insurance Agent
There are other factors to consider when figuring out how much your new car will cost. Will your insurance premium increase? Will you need GAP insurance? A simple call will go a long way in determining if the car is a good fit for your budget. Don't forget to check how the new car's gas mileage compares to your current vehicle, and if tires and other maintenance requirements will cost more.
Pro Tip: DuGood offers credit life and disability, GAP, and extended warranty. Be sure to talk with one of our Lending Experts!
5. Not Getting Pre-approved
That new car smell. The thought of all the fun you'll have in your new vehicle. This is the exciting part of auto shopping! But before your feelings carry you down to the dealership, it's important to get pre-approved first. Getting pre-approved will provide you with the right shopping strategy, so you know what vehicles fit comfortably within your budget. It also ensures you get the most savings possible!
Pro Tip: Once you get pre-approved, be sure to shop with our Preferred Dealers. You can get special pricing and sign all your loan documents before leaving the lot!
How DuGood Can Help
Whether you're just starting out or ready to sign, DuGood is here for you! We have a number of resources to help you along your auto buying journey: