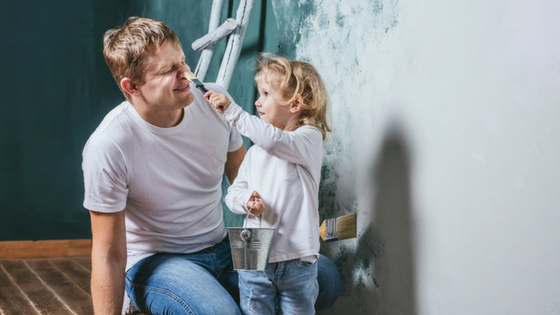 There's something about the spring that makes me want to do projects around the house. It's the perfect time to spruce up the patio, do some painting… and completely remodel the kitchen.
Ok, binge watching Fixer Upper might have had something to do with that last part.
When it comes to paying for home improvement projects, people typically think about getting a home equity loan. But, did you know that these loans can be used for so much more? Check out these five ways a home equity loan can help you achieve your goals.
1. Consolidate Debt
Wait a second… getting a loan can't help you save money! Or, can it? If you've gotten into trouble with multiple credit cards, getting a home equity loan can actually be a great saving strategy. Home equity rates are much lower than credit card interest rates.
Rolling multiple payments into one can also really simplify your monthly budget. Take care though! Let's address the real problem at hand. If you have issues with credit card debt, you need to change your spending patterns. You don't want to wind up owing money on your credit cards in addition to your new home equity loan.
2. Take Your Dream Vacation
Ah, travel. I get excited just thinking about it! What destination do you daydream about? Perhaps, you'd like to explore the castles of Europe or tour the Greek isles on a yacht. Whatever exotic location floats your boat (pun intended), a home equity loan can help you get there. Just think of all the memories you'll treasure for years to come!
3. Send your Child (or yourself) to College
College is crazy expensive! And unless your child is fortunate enough to have a full ride in scholarships, you're going to need some extra cash to pay for those classes somehow. With much lower fixed interest rates, using your home's equity is an excellent alternative to taking out student loans.
You can also use the process as a teaching tool! Work with your kids to create a repayment plan, so they can contribute to paying off the loan. They might grumble about it at first, but they'll thank you when they graduate debt free.
4. Cover Medical Bills or some other Unexpected Expense
Dealing with illness is never pleasant, especially when all the medical bills start rolling in. Certain procedures, testing, specialist visits, etc. just aren't covered by even the best insurance plans. During trying times like these, getting a home equity loan can be a great option.
Be sure to do your homework! Research your financing options and interest rates. And, make sure you're able to repay the debt in a timely fashion, so your house will not be at risk.
5. Pay for Home Repairs or Improvements
Ok – yes, we mentioned home improvement projects at the beginning of this article. But, we couldn't wrap things up without giving you a few parting tips…
Make sure you get estimates for the work that will be done on your home
Don't forget to factor in the costs of permits and fees
If you have more than one project to complete, fund them all at once. You can only take out one home equity loan per year in Texas!
How DuGood Can Help
Did you find yourself identifying with any of these goals? We'd be happy to help you with a home equity loan or answer any questions you might have.
If you're certain you'd like to move forward, be sure to check our current special on home equity loans. We're offering $250 cash back and a special rate discount.