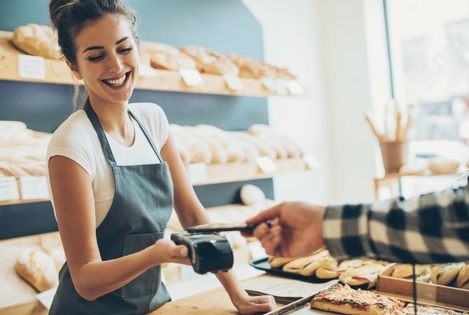 Digital Wallet. You might not be using it, but by now, you're probably at least aware of it. Apple Pay, Google Pay, Samsung Pay... The list of digital payment options is growing. And, it's not just a passing fad for the tech savvy.
So, what's the big deal? Why should you choose digital over using cash or a card? Allow us to break it down for you.
1. It's Safer
That's right. You read that correctly! When you pay using Digital Wallet, your card number is never actually shared with the merchant. It's protected by a constantly changing technology called tokenization.
Plus, if your phone is ever lost or stolen, there's your passcode and the option to remotely wipe it clean. Can you really same the same for your regular wallet?
2. It's Faster
Whether you're shopping in stores or online, Digital Wallet is definitely much faster than other forms of payment. You wait in line. You fumble around with purse or wallet once you reach the cash register. Not anymore! With digital wallet, you simply hold your phone or watch up to terminal, and you're done. Let's be honest; you probably have your phone out anyway.
Online using Digital Wallet allows you to skip past lengthy payment forms. Simply, use your finger print to confirm the purchase, and your item is on its way!
3. It's Rewarding
Digital Wallet is for more than just debit and credit cards! You can add your loyalty cards, insurance cards, and more. So, you'll never miss an opportunity to earn points at your favorite stores. Plus, with Apple and Google Pay, you'll continue earning your DuGood Rewards, and that makes things twice as nice!
4. It Keeps Your Organized
Several bloggers have mentioned the George Castanza wallet. If you're a Seinfeld fan, you'll get the reference. Digital Wallet allows you to carry all your cards in one place without your wallet exploding, which is always a good thing!
5. It Lightens Your Load
Because sometimes, you just get sick and tired of carrying around a huge wallet, heavy purse, or backpack. With Digital Wallet, all you need is your phone, and you're good to go!
6. It Makes Splitting Easier
This may not apply to all Digital Wallets, but some will allow you to send and receive payments… which is pretty fabulous when you're splitting a meal or gift with friends. According to Time's Money Blog, Apple's iOS 11 update allows users to split tabs using iMessage. Pretty awesome if you ask us!
Ready to Start Using Digital Wallet?
We have a feeling you won't regret it! Apple Pay, Google Pay, and Samsung Pay are now available for DuGood members. And, the list of merchants in Southeast Texas that accept it is growing quickly. For more information on how it works, adding it to your phone, and frequently asked questions – head over to our Digital Wallet page. Happy shopping!