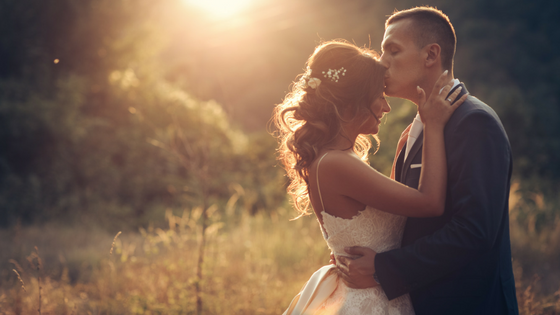 So you're getting married? Three cheers for the happy couple! There's nothing more amazing than finding the person you want to spend the rest of your life with.
Your love deserves to be celebrated! And while you've dreamt of a grand fairytale wedding with all the trimmings, your cash flow is looking a little less than royal. So, what's a bride to do? Check our 7 Tips for a Wedding that's Frugal and Fabulous.
1. Don't use the "W" Word
According to author and "wedding watchdog" Alan Fields, venues, florists, and caterers often mark up the price 25 – 30% once you mention the word "wedding."
2. Choose your Wedding Date Wisely
Avoid peak season (April 1 – October 31) and skip the Saturday wedding. You could potentially save thousands. Check out what these couples on Buzzfeed have to say.
"We moved our wedding to a Friday (originally planned for Saturday) and saved a few thousand dollars by doing so." —Kim Ryba White, Facebook

"We got married on a Wednesday, completely nontraditional, so we saved an incredible amount! Easily a couple thousand." —jennicas2
3. Use Flowers that are In-Season or None at All
There are many ways to "prune" your spending when it comes to flowers.
Pick one or two different kinds
Order from a grocery store
Opt to use more greenery
Make the arrangements yourself
Create paper or fabric flowers
Use lanterns, candles, or skip "bouquets" all together
4. Consider a Non-Traditional Venue or Setup
Want to avoid paying for tables, chairs, linens, flatware, and décor? Have your reception at a restaurant. You can also save significantly by having your wedding and reception at the same location. You won't have to decorate twice, and no one will get lost! We just love what Buzzfeed bride Heather Watkins Imani had to say about her ceremony.
"We had the ceremony and the reception in the same room. The guests sat at their tables during the ceremony and were able to start the cocktail/appetizer hour immediately after the ceremony while we took pictures. This saved on transporting the bridal party — no limos, less time restraints, and out-of-town guests didn't have to worry about getting lost." —Heather Watkins Imani, Facebook
5. Think Outside the Box when it comes to Food & Drink
Get friends and family to make side dishes. And remember, food doesn't have to be fancy to be a crowd pleaser. Potato bars and mac and cheese are always a big hit. Rather than having a full bar, offer beer, wine, and a signature cocktail instead.
6. Keep your Cake Simple
Take a little advice from The Knot and order a small one or two-tiered cake. You can hide a larger sheet cake in the kitchen if you need to supplement. Also, decorate with fresh flowers from the ceremony, not sugar ones.
7. DJ your own Party
Load all your music on to an iPod or laptop and get a friend or family member to pump up the jams. Put songs on your playlist that all ages will love – and save the Lady Gaga for after dinner when your guests are really ready to dance.
Here's to a having a fabulous wedding that won't break the bank! Since June is such a popular wedding month, we'll be sharing more tips and tricks to help you with you big day in the weeks to come.