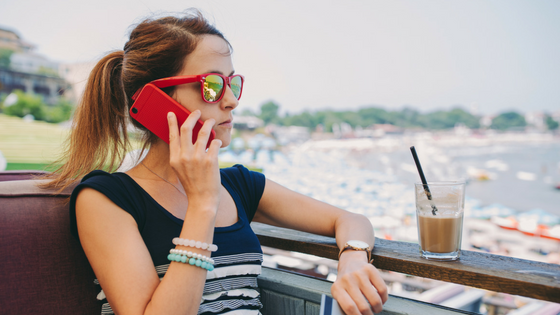 Telemarketing scams have been a very common way of committing fraud for many years. According to the National Consumers League's Internet Fraud Watch, there are some scams that are more prevalent than others. Let's take a look at the most common Telemarketing Fraud Scams in the United States.
1. The Fake Check Scam
In the fake check scam, you receive interest via the telephone from a classified ad for an item to be sold. This prospective "buyer" offers to give you more than the requested amount by a certified check, and then asks you to wire the remainder to him/her. Unfortunately, the certified check is a fake and you do not receive that money. Furthermore, you have lost the "remainder" that you sent.
2. Fake Sweepstakes or Prize
In a telemarketing scam involving prizes or a sweepstakes, you are promised some sort of gain over the phone that never actually happens. In many instances, you may not even remember signing up for the sweepstakes or prize (probably because you didn't). Your name is selected, and the scammers then call to request your personal financial information to either send the money (with a counterfeit check, which can get you into trouble), or they say they can deposit the money directly into your account. Either way, you will not obtain the funds.
3. Advanced Fee Loan Scam
In an advanced fee loan scam, you are given a call from a solicitor promising you a business or personal loan, no matter what your credit looks like, for an upfront fee. Turns out, you supply the fee and your personal financial information, and the scammers get your identity as well as any money you may have.
4. Foreign Lotteries Scam
The foreign lotteries scam occurs when agents from foreign countries contact you (a person living in the United States) by telephone to entice you to purchase chances in a high-stakes foreign lottery. Once you buy-in to the scheme, you are called to announce that you won the lottery and will need to send money to pay for administrative fees and taxes to obtain the prize money. You will also be asked to provide personal financial information to send the prize to you. No matter what is said, this is always a scam. Furthermore, it is illegal for any foreign lottery to solicit customers in the United States.

5. Phishing Scam
A phishing scam occurs when you are asked to provide personal financial information to someone who is not a legitimate source. In most instances, phishing happens when you receive an e-mail from what appears to be a business you deal with (e.g., financial institution) asking to update your personal financial information due to an upgrade in the security system or other issue. In most instances, the e-mail has a link to a fraudulent, "look-a-like" site where you would then put in your information and the scammers would use it fraudulently. In the case of telemarketers, you may get a call from someone pretending to be from a company or government agency, making the same kinds of false claims as he/she would make in an e-mail, and asking for your updated information.
6. Magazine Sale Scam
A magazine sale scam occurs when someone calls and asks you to renew your current magazine subscription through his/her company, or he/she asks you to sign up for a new magazine. In most instances, the person on the other end of the phone is a con artist trying to trick you into spending more money than you need to for a magazine you will never actually receive.
7. Credit Card Issuing/Loss Scam
In the credit card issuing/loss scam, a person calls to provide you with a new credit card at a great rate with a high credit limit. Additionally, the person will ask you to provide him/her with your personal financial information so he/she can transfer your current card amount onto the new card with no extra charge. Unfortunately, you will probably never receive the new card and now you have given all of your personal financial information to a scam artist.
8. Scholarship/Educational Grant Scam
In a scholarship or educational grant scam, you will receive a phone call stating that you can receive a scholarship without having to put forth any effort. Additionally, you may also be told you can obtain an educational grant for free and you will never have to pay back the money. All you need to do is provide personal financial institution, or "confirm" what is on file, and the group will provide the money from the scholarship or grant to your account. Don't do it!
How DuGood Can Help
At DuGood, we believe in looking out for our members. That's why we offer several services to keep you safe:
CardValet app – turn your cards on or off with just a few clicks, receive alerts, and more
Fraud Protection – we'll text or call if we suspect fraudulent activity on your debit card
Also, be sure to check out our Security Center. It's filled with useful articles and tips to help you stay ahead of scammers.