Ah, Valentine's Day! Insert flowers, chocolates, and sparkly hearts here… or this meme of Dwight from The Office. Sorry! We just couldn't resist.
Back to the point! Valentine's Day is indeed coming, and that got us thinking. What makes a great date? So, we reached out to our followers on social media – and their feedback was phenomenal!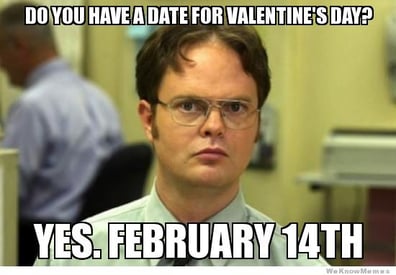 1. Picnic for Two Please
Whether it's at home on the living room floor or outdoors, there's just something special about a picnic with the one you love.
"When we were dating, my husband planned a romantic date night in for cheap and it is one of my favorite times. He cooked dinner, set us up a picnic area in my living room in front of the fireplace with all the lights off, and we had dinner. Then, we played a game (can't remember the name) that had lots of get-to-know-you questions. Then, for dessert, he bought all the stuff for s'mores (I had never had one before), and we were going to make them in the fireplace and have a glass of wine. The most memorable part came when suddenly my entire apartment was filled with smoke, and the smoke alarm started going off. Turns out the thing on my fireplace wasn't opened because it hasn't been used in a long time. The rest of the night consisted of doors and windows open and trying to get all the smoke out. It's fun to laugh about now though."
- Marylyn B, Facebook

"Picnic at home. We set up the living room like we were at the park. It's a great date because you don't have to worry about the weather, and you get to explore a new use for your home."
- Marie V, Facebook

"Picnic in the park with good communication and our daughter playing in the playground in this nice weather."
- Robert H, Facebook
2. Think Outside The Box
We have to give credit where credit is due! Our Facebook fan, Josmery M. and her husband, Brian, have gone on some seriously cool dates. Maybe they'll inspire you to plan something unexpected!
"We went to Chuck E. Cheese and bought a pizza, played tons of games and won stickers and small toys to give to kids we know. It was awesome.

We've also bought supplies from Hobby Lobby to make our own floating lanterns! That was really fun too.

Recently, we did a double date with friends where we bought ridiculous clothes from Goodwill, and ate out at a restaurant, and pretended that's how we normally dress. I was dressed in an Indian garb, and all the waitresses said I looked like Jasmine.

We've done a "taste of Beaumont" once, where we get drinks at one restaurant, an entree at another, then dessert at another. Can be as affordable as you make it.

Some ideas we've yet to do are making a cup of coffee and enjoying it at the public library after choosing books for each other to read. That one can be a continuous thing, since it takes a while to finish a book and can remain flexible for when you need a quiet date together.

Once when Brian came home from work (we were in between jobs, and he was working a ton of hours at a restaurant), I bought a badminton set from The Dollar Store. As soon as he came home, I tossed him a racket, and we had a go in the back yard. He loved it; it really helped ease the stress."
- Josmery M, Facebook
3. Incorporate the Outdoors
It's no secret that Southeast Texans love the outdoors! Whether it's a beautiful sunset, an ATV ride, or doing some fishing – a little adventure may be exactly what he doctor ordered.
"We really love just taking off and going camping randomly. Pack a tent and sandwiches in a cooler. Go where there is no service and enjoy the quiet."
- Jessa C, Facebook

"A fire, a weenie roast, and laying out looking at the stars. Riding dirt roads, listening to the music you love. Spending the day fishing. Spending the day doing target practice and grabbing a bite from the local cafe. The cheap dates sometimes end up being the best!"
- Chelsea C, Facebook

"Taking an ice chest, two chairs, two sub sandwiches, and an MP3 player to the beach to watch the sunset! Relaxing, romantic, and cheap!"
- Shelby P, Facebook
4. Sing to your Sweetheart
Ok, so we're not all musicians! But if music IS your thing, singing to your special someone doesn't cost a dime, and it will make them feel incredibly special. Extra points if you write them a song!
"Our Property backs up to a large wooded area that has the most romantic sights, sounds, and smells. There is something about the sound of an acoustic guitar when Jim is playing for me in the woods. A bottle of cool wine, some good cheese, and the sounds of classical guitar music is all it takes to whisk me away."
- Dodie L, Facebook
5. Go For A Stroll
Sometimes the simplest moments are the sweetest! Getting to know your partner is a lifetime pursuit. There will always be new things to discover about them.
"Our usual favorite when it comes to simple yet fun dates is grabbing some coffee (or unsweet tea in Josh's case) and just walking around a store. It is always sweet and hilarious to just walk around."
- Sara W, Facebook

"Me and my husband always loved to walk down the boardwalk in Galveston or the Kemah boardwalk. It's free, and you get to see all the sites. We still do this even today. We have been together 13 years and it never gets old, and it's FREE!!!!!!!!"
- Tiffany M, Facebook

"The Strand...just going in and out of shops, not really buying anything except ice cream!"
- Sarah S, Facebook
6. Just Add Fire
No, we're not pyros – but we did get TONS of comments from couples who love relaxing by the fire. You have to admit! Cuddling by the fireside can be pretty romantic.
"I love to leave little notes and cards scattered around for him to find throughout the day and have his favorite meal ready when he gets home. Dine together, then relax while listening to jazz music outside on our new patio complete with a cozy fire. It's the simple little things that mean the most. 26 years together..."
- Kellie W, Facebook

"Sitting by the fire in the back yard and drinking Coronas... can't get more romantic than that."
- Marciela G, Facebook
7. Break Bread Together
Out of all the dates our followers mentioned most, sharing a simple meal together topped the list. Was it a fancy restaurant that tempted their taste buds? No way! These couples preferred grilling in the back yard, cooking together, or surprising their significant other with his / her favorite food.
"I love to surprise my girlfriend with a wonderful home-cooked meal. She is coming to visit me at college the weekend before Valentine's Day!"
- @_drummer4christ_ , Instagram

"Grilling in the back yard, watching the kids play...relaxing and enjoying the moment."
- Brittany C., Facebook

"We cooked together, ate, and enjoyed a good movie at home, and made homemade chocolate chip cookies for dessert!!!"
- @sun_shine_tuck, Instagram
8. Keep Things Simple
Between work, school, and all the distractions life can throw your way – sometimes the best date is just staying home with your honey.
"I love going home and making dinner with a RedBox movie or Netflix movie!"
- Autumn Q, Facebook

"My husband and I will sit in our hot tub and watch movies for our date night."
- Sherri J, Facebook

"Playing board games & dinner at home. So much fun!"
- Tayler M, Facebook
Final Thoughts
Going on a great date isn't about the price tag! It's about spending time together, getting to know each other, and making memories.
We'd like to say thank you to all of the couples who shared their date ideas with us! We received such an amazing response from our followers and wish we could have featured each of your comments.
For even more great date inspiration, check our our Facebook andInstagram pages. Happy Valentine's Day everyone!