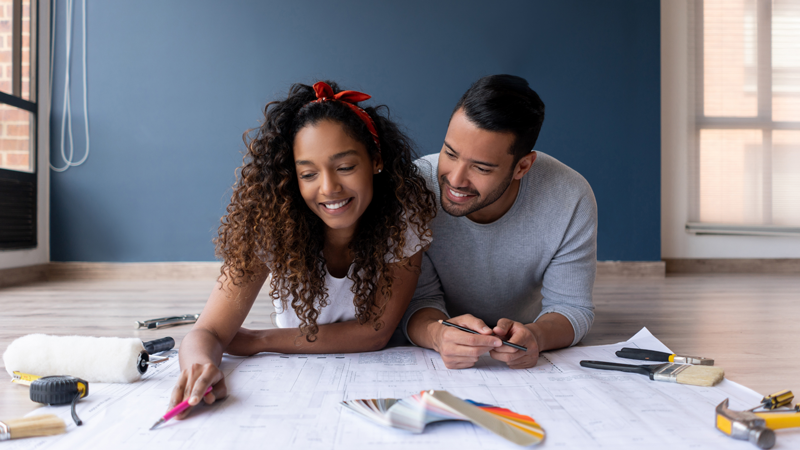 Embarking on a dream home journey can be quite the process. Questions come up like whether to buy a move-in ready home or build a home. There are many factors to consider when looking for finance options to make your dream a reality, depending on which route you take. We are sharing some helpful information to guide you in the right direction.
HOME LOAN
A move-in ready option might be appealing if you need to make a move in a hurry, or if you don't want to take on the complexities of a home building project. DuGood offers many flexible home loan options including 10, 15, 20, and 30-year loan periods. Depending on your creditworthiness, you may qualify for our most competitive rates.
If you've already found your dream home, start the application process in 10 minutes or less..
LAND LOAN
If you're looking to start your dream home process by purchasing a tract of land, a land loan would help finance it. Although the requirements and repayment terms of land loans differ from traditional mortgage loans, the application process is very similar. When securing a land loan through DuGood, you'll reap the following benefits:
Receive up to 80% financing
Low closing costs
Repayment terms up to 15 years
No pre-payment penalties
Have you found the perfect lot already? Start the land loan process.
CONSTRUCTION LOAN
When financing the construction of a new home, you'll encounter a slightly different process than if you were to buy a home that's already been built. Typically, a construction loan is used to cover the cost of land, contract labor, building materials, and more associated with building a new residential home. There are a few key aspects of a construction loan that you should consider.
They are financed for shorter periods of time compared to traditional mortgage loans. The average period is about 1 year.
Construction home loan rates are typically higher than a traditional mortgage loan simply because, with a home that's already been built, that asset is considered collateral. Without this, it's considered riskier for the lender, hence the increased rate.
During construction, loan payments are set up as Interest Only payments as the new home building process progresses.
Once construction is complete and the home has been inspected, the loan will be converted to a Mortgage loan with a monthly principal and interest payment for the term of the loan.
Ready to get the funds to build your new dream home? Click HERE to get started!
WHY DUGOOD?
At DuGood, our mortgage experts can help you work through the home loan process and help determine which loan is right for you. Feel free to reach out to one of our loan professionals at(409) 726-2126.
Love all things good from DuGood Federal Credit Union? Don't forget to follow us for the latest news, trends, and events on Facebook, Instagram, Twitter, Linked In, and YouTube.