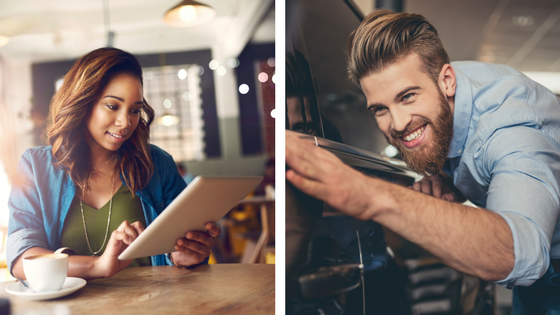 Today's technology gives you plenty of options when it comes to shopping, even when shopping for a new car. The traditional approach of visiting a car lot and working with a salesperson to learn about different vehicle options has largely been replaced by pre-sales research conducted online, with details about almost any make and model accessible from the comfort of the home or office.
Buying a car online can offer you convenient checkout and a wide range of options. However, just like any buying experience, online car shopping comes with a variety of pros and cons that you should carefully consider before sealing the deal.
Online shopping means no pressure from sales teams, freedom to browse as you please, greater selection, ease of comparison, and in some cases, even the ability to preview a customized vehicle before you buy. If you're committed to conducting thorough research, you really could end up stumbling upon a great deal that you wouldn't have found otherwise. And, best of all, you can shop when it is convenient for you, not during the dealership's operating hours, or driving miles and miles to go to the dealership with the car you would like to purchase.
But, of course, there is always another side to the story. A car may seem perfect on the internet, but unless you test drive it, you might not notice something you don't like; for example, leg room, handling, seat adjustments, or the overall "feel" of the vehicle. Many people feel more comfortable seeing the car in-person than just in a collection of photos online.
The advantages of buying a car in-person helps with peace-of-mind, and it appeals to those with patience and the willingness to spend a few hours negotiating to get just what they want. At the lot, you will notice the smaller details, and if you don't like something about the car, you can always back out, which means no buyer's remorse. You can also get immediate answers to all of your questions by talking to the salesperson, especially when it comes time for those questions concerning the exact price and then possible financing options.
Wherever you end up deciding to buy your car, whether it's new or used, both online car sales websites and dealerships can be utilized while you shop around. If you see a car you like online, you can visit a dealership to check it out in person and possibly take a test drive. Conversely, if you see a car that you like at a dealership, you can go online to look for a better deal or for a vehicle with the specific color, interior, or other options you are looking for.