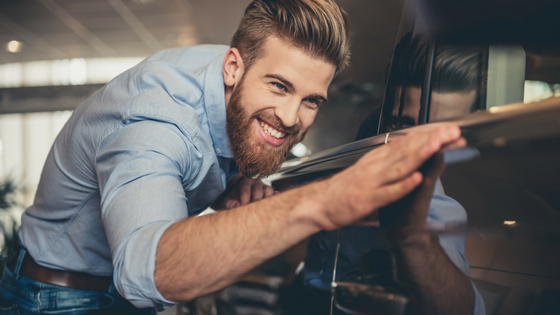 It's no secret! Hurricane Harvey did a number on vehicles here in Southeast Texas. Alongside sheetrock and piles of building materials, tagged and abandoned cars have become a common sight on roads and highways.
It's pretty overwhelming… especially if buying a new auto wasn't on your list of priorities any time soon.
A used car might appeal more to your budget, but post-Harvey opting for something used could be a little risky. Why? According to Texas Monthly, an estimated 500,000 autos have been declared a total loss, and some are getting cleaned up and put back on the market anyway.
So how can you find a reliable car without getting conned? Follow these tips by Edmunds.com blogger Ronald Montoya.
1. Check the Vehicle's History
A history report will detail the vehicle's past, including the states in which it's been registered. A vehicle history report should reveal any branding for flood damage, even if someone has washed the vehicle's title by moving it through states with differing regulations.
A good, low-cost starting point is the free flood title check from Carfax. It will not only answer whether the vehicle had flood damage reported, but it also provides a link to buy the full-fledged vehicle history report. The National Motor Vehicle Title Information System, operated by the Department of Justice, has a number of reports you can buy from third-party companies, but they do little beyond what the free Carfax check provides. Your money is better spent toward the purchase of a full report from either Carfax or AutoCheck. And as with any used-car purchase, the buyer would be wise to have a mechanic check out the car.
2. Be alert to unusual odors
Musty or moldy odors inside the car are a sign of mildew buildup from prolonged exposure to water. It might be coming from an area the seller is unable to completely clean. Beware of a strong air freshener or cleaning solution scent since it may indicate the seller is trying to cover up something. Run the air-conditioner to see if a moldy smell comes from the vents.
3. Look for discolored carpeting
Large stains or differences in color between lower and upper upholstery sections may indicate that standing water was in the vehicle. A used car with brand-new upholstery is also a warning sign since a seller may have tried to remove the flood-damaged upholstery altogether.
4. Examine the exterior for water buildup
Signs may include fogging inside headlamps or taillights and damp or muddy areas where water naturally pools, such as overhangs inside the wheelwell. A water line might be noticeable in the engine compartment or the trunk, indicating that the car sat in standing water.
5. Inspect the undercarriage
Look for evidence of rust and flaking metal that would not normally be associated with late-model vehicles.
6. Be suspicious of dirt buildup in unusual areas
These include areas such as around the seat tracks or the upper carpeting under the glove compartment. Have an independent mechanic look for caked mud or grit in alternator crevices, behind wiring harnesses, and around the small recesses of starter motors, power steering pumps and relays.
How DuGood Can Help
If Hurricane Harvey has you shopping for your next vehicle, we want you to know that you're not alone. Here's what how we're helping folks like you get back on the road again:
DuGood By Giving – When you finance with us and shop Classic Southeast Texas, you'll get special pricing, up to $1,000 cash back, and NO payments until 2018.
Use our Auto Toolkit to check out the selection at dealers across the country, compare makes and models, and view Carfax.
Download our Auto Buying Guide for even more tips to help you with your car hunt.
How To Avoid Buying A Flood-Damaged Car by Ronald Montoya at https://www.edmunds.com/car-buying/how-to-avoid-buying-a-flood-damaged-car.html