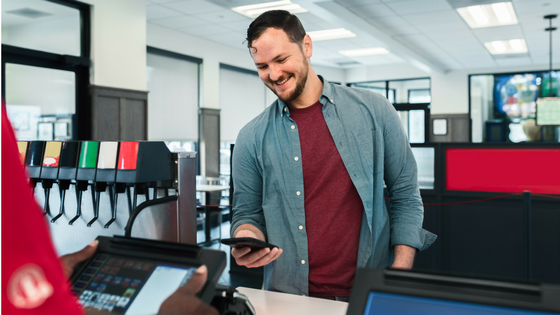 We use our phones for everything these days – whether we're texting someone, checking our balance, or making a call. Did you know you can pay for groceries or your next cup of coffee using a mobile payment app?
Many mobile payment apps use a Near Field Communication (NFC) system, which is wireless short range connectivity that communicates directly with your mobile device. The merchant you use has a system that reads the data from touching your phone, or from a bar code displayed on your phone. These apps (or mobile wallets) eliminate the need for carrying credit or debit cards, gift cards, or even loyalty/rewards cards.
As you can imagine, there are a lot of NFC payment apps and a lot of ways they are used. In many cases, these apps act like gift cards, allowing you to "load" money and transfer it from your card to the merchant. For example, the Starbucks app allows you to order ahead, pay with your phone, and then earn rewards from that purchase. Your app keeps track of everything – and even tells you when you need to add more funds.
Certain NFC apps are more broad-based, such as Google Pay, Apple Pay, and Google Pay. These apps take the place of your credit or debit card. You add your account information into the apps (from as many cards as you desire) and each time you make a purchase, money for that purchase is taken from your selected account. These apps are specific to the type of mobile device you're using, so you can't use Apple Pay on an Android phone or Google Pay on an iPhone.
In addition to these NFC payment apps, there are also apps that operate through your phone to connect with vendors directly. For example, with Paypal, you can use your mobile device to send payments directly to merchants, to merchants through other apps or to individuals. Let's say you need to get somewhere, and you don't want to drive, you can use the Uber app and your Paypal account to get there – by clicking a few buttons.
Whatever app you choose, know that your security is of utmost importance. We encourage you to check your accounts regularly using your mobile phone and set up alerts for low balance or transactions made. This way, you can keep track of everything all in one place.
How DuGood Can Help
Interested in using mobile payment apps? There are several available for DuGood members!
Digital Wallet – FEEL GOOD about a shopping experience that's safer and faster. Apple Pay, Google Pay, and Samsung make checking out effortless.
Apple Pay Cash – Send and receive payments through iMessage or by asking Siri.
Popmoney – Don't have an iPhone? You can send and receive payments by text or email. You can find this convenient service within Online Banking or the DuGood mobile app.
Sources:
https://www.google.com/webhp?sourceid=chrome-instant&ion=1&espv=2&ie=UTF-8#q=near+field+communication&*
http://www.toptenreviews.com/business/payment-processing/best-mobile-wallets/