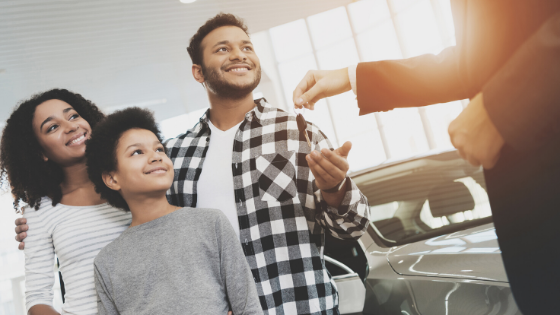 If you're in the market for a new automobile, maybe you think the easiest way to get your dream car is to obtain dealer financing at the time you buy the car.
Allow us to shed a little light on this topic! At DuGood, we can save you both time and money. Our loan process couldn't be easier – all it takes is a brief phone call or a few clicks of your mouse.
Pre-Approvals That Empower
One of the first steps to smart auto shopping is getting pre-approved. When you're pre-approved, you can rest assured that you've been approved for a loan you can actually afford. At DuGood, we're on your side! Before you ever get to the dealer, you'll know exactly how much you can spend and exactly how much your payment will be.
As we're helping you figure out a payment you're comfortable with, we'll see if additional insurance and warranties are right for you. You'll find our policies are significantly lower – helping you save even more!
A pre-approval is like cash and gives you purchasing power. When you walk into the dealership, your financing should already be secured, and your focus should be on negotiating the best-selling price.
Better Rates
The rate you receive on your auto loan can really make or break your budget! It can save you thousands of dollars in interest over the course of your loan. At the end of the day, that means more money in your pocket for the things you need.
When you choose DuGood, you'll have peace of mind knowing that you've received some of the lowest rates around. Whether you're buying new, used, or refinancing – our rates are very competitive.
Resources for a Stronger Negotiating Position
Before you get to the negotiation table, it's important to do your homework. Find out the current selling price of the vehicle you want to purchase. In most cases, you'll find it's the invoice pricing – not what's on the sticker.
If you plan on trading in a vehicle, make sure you know the current value and what it's worth.
At DuGood, we offer several great tools that can help you with this kind of research. Our EZ Auto Buying Tool allows you to browse dealer inventory, view invoice pricing, safety ratings, compare vehicles, and more. While, our NADA Search allows you to get an idea of your trade-in options.
Use our EZ Auto Buying Tool >>
DuGood Can Help
Whether you're ready to hit the car lot or you're just starting out, DuGood is here to help with your auto buying journey. If you have questions, give us a call at (409) 241-2248. And, don't forget to take advantage of all our helpful resources:
Auto Buying Guide – an in-depth guide to car shopping. Download it for FREE!
Carvana – Looking for a low-mileage used vehicle? Shop from home and get your car delivered!
Partner Dealers – Shop our local partner dealers for the best pricing.