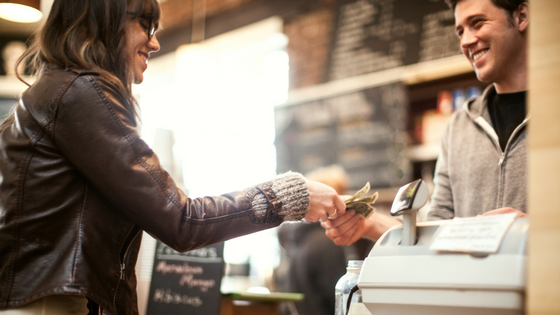 ATM fees are literally one of the most frustrating things in the universe. Ok, that might be a slight exaggeration. BUT, who really wants to get popped with a fee for using your own money? That's right – no one.
While we all have a healthy dislike of ATM fees, unfortunately, they seem to be on the rise.
According to Bankrate.com, the average out-of-network withdrawal is now $4.69. Let's put that into perspective! If you're a Starbucks fan, and your ATM fee rivals the price of your favorite cup of joe – we have a definite problem here.
Fortunately, there are some ways you can fight back. Here are six tactics you can use to avoid ATM fees.
1. Switch to a Credit Union
Ok, we might be a little partial, but credit unions are not-for-profit! So, since there are no stockholders to pay – that means fewer fees for you. Here at DuGood we don't charge ATM fees at all! How does that make you feel about your bank?
2. Use ATMs In Your Network
If you're not willing to make the switch, one of the safest ways to avoid fees is by using ATM's in your network. Many people choose banks because they believe it gives them nationwide access to their account. But, did you know can get that same access at many credit unions?
How? Because credit unions actually work together! DuGood is part of two totally free ATM networks – CU Pass, which allows you to use almost any credit union ATM in Southeast Texas… and the CO-OP network, which is nationwide. Our ATM networks give you access to thousands of free ATMs across the country!
3. There's an App for That!
It's easy to rack up ATM fees when you're on the road, or you're staying some place unfamiliar. If your financial institution offers an ATM locator app, don't leave home without it.
If you're a DuGood member, you'll definitely want to check out the CO-OP network's app for iPhone and Android. You can also text your zip code to 91989 to find ATMs nearby or call 1-888-SITE-COOP.
4. Get Cash Back In-Stores
Out and about at one of your favorite stores? Most merchants offer the option to get cash back on your purchase when you use your debit card and PIN,
Safety Tip: Be sure to check your surroundings. If this is standard practice for you, you might want to check out our latest blog on "Keeping Your Money Safe From Scammers."
5. Get Cash in Advance At Your Local Branch
If you're a millennial like me, you probably don't visit your financial institution's brick and mortar locations very frequently. But, if you're also like me, you're pretty passionate about not getting ATM fees. If you live or work close by a branch, it might be worth it to stop by and get a little cash to keep on hand. It also never hurts to get to know the folks that work at your bank or credit union.
6. Get To Know Your Wallet
What are the perks of your debit and credit cards? Can you earn reward points, and if so, what is the process? In some situations, it might actually benefit you to use a credit card over debit or cash. Whatever your story might be, it's always good to be educated about your options.
Final Thoughts
ATMs fees are annoying – and they can really add up! Fortunately, there are several ways to avoid them. If you're fed up with the rising cost of ATM fees at your bank, we encourage you to shop around. And if we may be so bold, try a credit union! We're doing some pretty good things here in Southeast Texas.
A terminal surcharge fee may still apply at certain ATMs. Check out our complete list of totally free ATMs.